Some of the links in this article are affiliate links which means that if you choose to click on them and make a purchase, I earn a small commission at no extra cost to you.
Also, as an Amazon Associate, I earn from qualifying Amazon purchases.
For more details, please read the full disclosure here.
Thanks so much for your support!
Painting on black canvas is something that everyone should try because it can bring something to your artwork that you just can't get any other way.
Have you ever been perusing the canvas section of your local art store and seen black canvases, panels, and pads? Yep, that's right, you can buy your surface of choice that's already been painted with black gesso or you can easily paint one of your white canvases with black. Just make sure that you have a nice even coat of paint with no brush strokes (unless that's what you're going for, of course).
Let's really dive deep into why you would want to create a painting on black canvas, what types of paintings look particularly amazing using a black canvas, and how to use black paint on a black canvas.
Why Painting on Black Canvas is Epic!
Because black is considered the absence of color, most colors of paint will look amazing on top of it. It will turn any composition into a dramatic piece that demands attention. Just imagine, a still life of a pitcher of water with lemons and lemon slices on a black background! Sure, it would look great with a different color used as the background but it definitely wouldn't have the same dramatic value.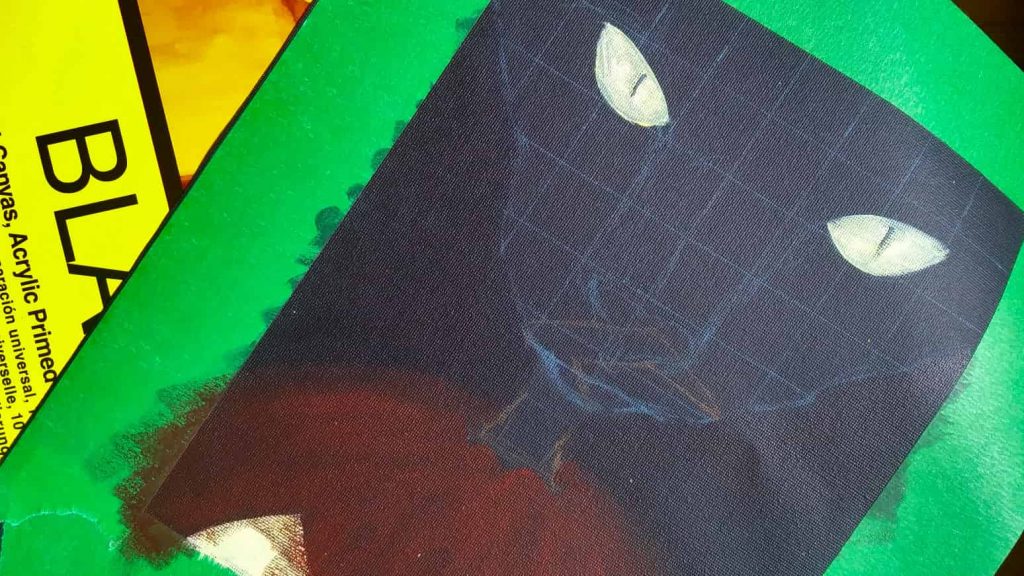 The other awesome thing that you can do when painting on a black canvas is creating the illusion that your subject is fading into the shadows. It's super easy to fuzz out your edges making the transition between light and dark a breeze to achieve. All it takes is a feather-light touch and a minimum amount of paint!
In the image above, you can see that I'm working on a canvas sheet from a Fredrix 12×16 black canvas pad. I really enjoy working on canvas sheets because they're just like stretched canvas but take up less space and you can either lay them flat or stick them to a piece of plywood to mimic painting on a stretched canvas. If you haven't tried painting on a canvas sheet you should really give it a go.
Another choice you might want to consider is painting on a black canvas panel. It's like getting the same space saving benefits of a canvas sheet but they're super sturdy. This is awesome if you paint like I do and sometimes get aggressive with your application technique (sorry brushes and canvases!).
The Best Time to Whip Out a Black Canvas
You can create a painting on black canvas whenever you feel like it but, in my little 'ol opinion, there are a few subjects that are so flipping amazing against a black backdrop.
Flowers
Nightscapes
Anything where you're trying to create an eerie feeling
Portraits
Flowers are typically delicate and have a lot of light and shadow. Because of this, painting on black canvas will make the colors pop and will easily create depth and dimension, even if you're painting impressionistic flowers.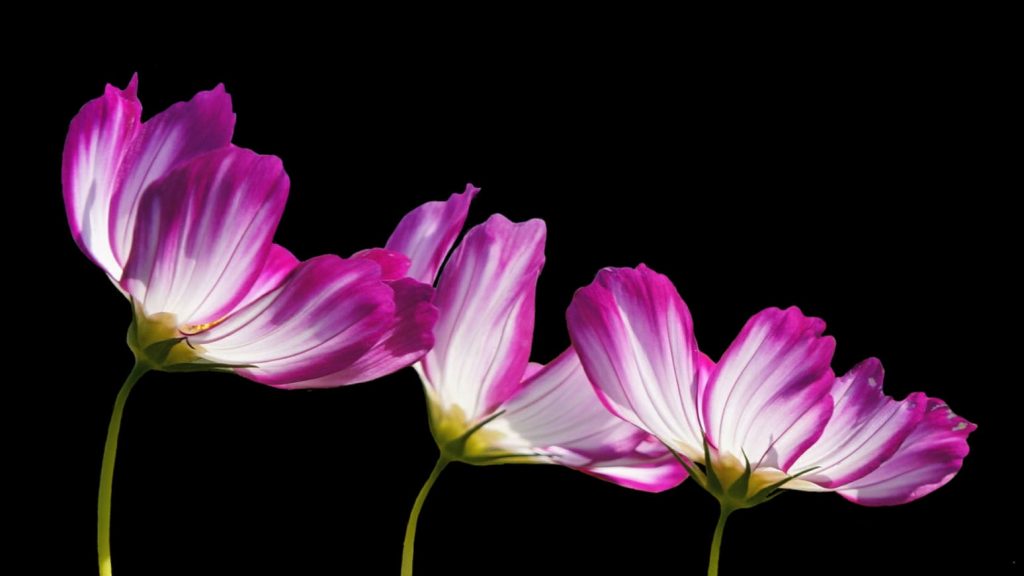 It makes sense that painting nightscapes on black canvas would be a top choice since you already have the deep shadows taken care of. To help your nightscapes look less flat, add deep shades of blue to your black background. The difference will be subtle but will easily create a layered effect that will give you subtle depth.
I love painting creepy stuff! Like, it's my favorite thing in the world and I try to paint something creepy at least once a year even if I do only bring it out during the Halloween season (which lasts for the entire month of October in my house).
Whether it's an old graveyard, an abandoned house, or a spooky path through the dark woods, painting on black canvas will help you create a haunted feeling without too much effort.
You really don't see this too often, but painting portraits on black canvas is stunning! Because you aren't distracted by the background, all of the attention goes to the subject of the portrait. To me, the contrast gives this old world feel to the portrait that you just can't get without the black background.
Did you know that you can buy a stretched canvas that has black gesso already added? The perk of buying a black canvas is that you don't have to take the step to paint it black yourself.
Painting Dark Colors on Black Canvas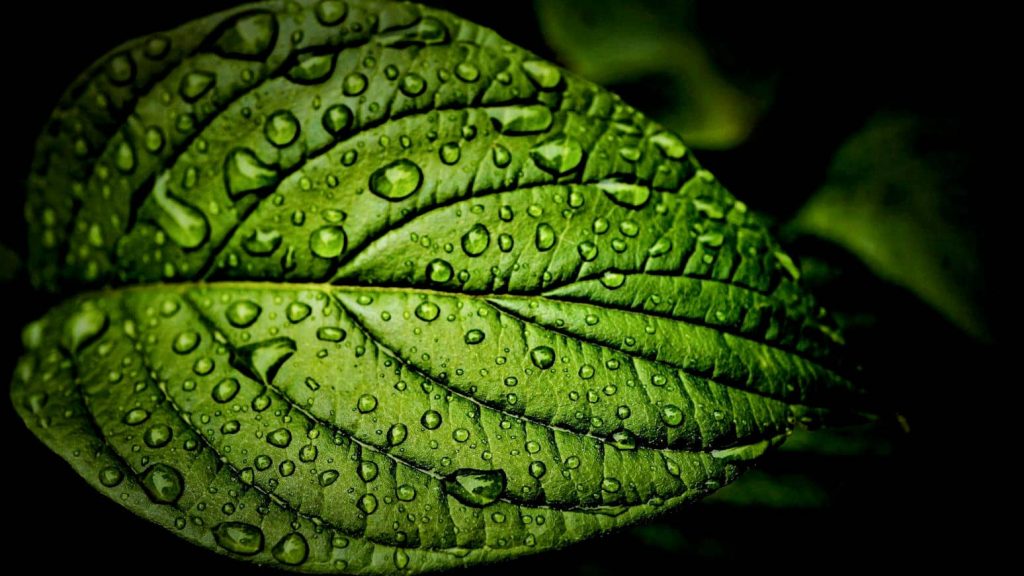 So, you may be thinking that painting on black canvas will limit the number of different colors you can use. How are you supposed to see dark brown or dark purple against a black background? You can absolutely use these colors but you need to use a few simple tricks to see the colors.
If you want to use a dark paint color, and you want it to really show up, an easy trick is to lay down a layer of opaque, or semi-opaque, paint first and then paint your dark color on top of that. Just remember that the level of opacity will depend on the manufacturer. So, if Liquitex lists one of its colors as opaque that doesn't necessarily mean that, say, Artiza's version of the same paint color will have the same amount of opacity.
Here is a short list of semi-opaque/opaque Liquitex Basics acrylic paint to get you started:
For a full list of Liquitex Basics paint colors, including opacity, lightfastness, and item number, get the pdf printable color chart.
Keep in mind that whatever paint color you use under your darker colors will change it a bit depending on the transparency of your dark color. This "change" can be quite dramatic or very subtle. The image below will give you an idea of what can happen to Diox Purple, which is a pretty dark purple, when you use some of the above listed paint colors as an underpainting.
For this example, I used all Liquitex Basics paint and the specific colors used are: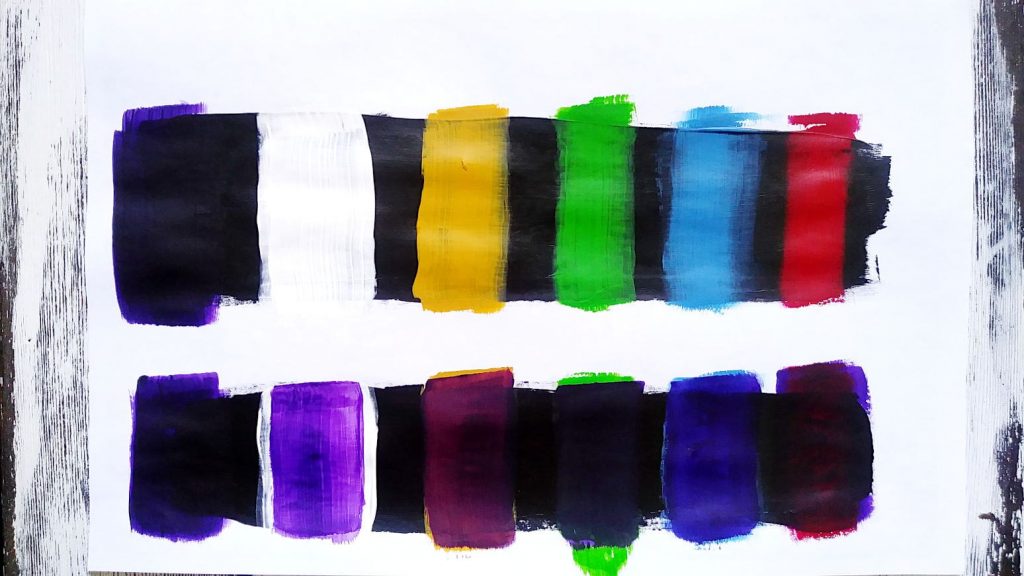 As you can see, the color of the paint underneath the Diox Purple effects the end result of the overall color. Notice how the yellow oxide/diox purple mix is now a warm wine-like color and the diox purple on top of the cerulean blue is now more of a bright blue-purple.
On the other hand, maybe you want the slightest hint of the dark color peeking out, here and there, from the shadows of the black background. In this case, just build up layers of the dark paint until you reach the desired level of visible color.
You can also paint the dark color using one thick layer to make it more noticeable. Be aware that this thick layer may add texture and will take longer to dry so just move on to another area of the canvas and come back to it if you're wanting to add details to it.
What About Painting on Black Canvas with Black Paint?
So, painting black on a black canvas is challenging but absolutely doable. This is where undertone and/or light are going to come into play big time.
Let's say you want to paint a headshot portrait of a black cat on a black canvas. How are you going to be able to see the shape of the black cat and not just eyes shining from within the darkness?
Once you've decided where your light source will be coming from, you'll be able to add shine to the fur wherever the light hits it and that will help to define the shape of the cat. In this case, you wouldn't want to go crazy with the highlights or you'll end up with an outline around the cat and risk having it look more cartoon-like. Just trust your light source and go with it. Your mind will eventually make sense of what it's seeing.
One way that I find useful, when trying to keep track of where your light source will hit, is to use chalk or a watercolor pencil to create lines where the outermost light would be showing on the subject. Anything between those lines would have varying amounts of highlights.
The other thing you can do, when painting black on black, is to make sure you use different blacks to create a tone on tone effect. In the case of a cat portrait, you'd make a black that is either slightly brown or slightly blue. This would be the black to use for the fur. Meanwhile, you want the black background to be more uniform and flat. Mars Black is a good choice for this.
On the other hand, if you were going to paint a night sky, with barely visible trees, maybe some stars and the northern lights, I would suggest painting the sky a dark blue black and the trees a flat black (like Mars Black). Painting the silhouette of the trees in a flat black will draw attention to the night sky and anything you add to it.
Using black with different undertones when painting on black canvas is a subtle technique and with the addition of your highlights, you will have a stunning piece of art to display with pride!
YouTube Recommendations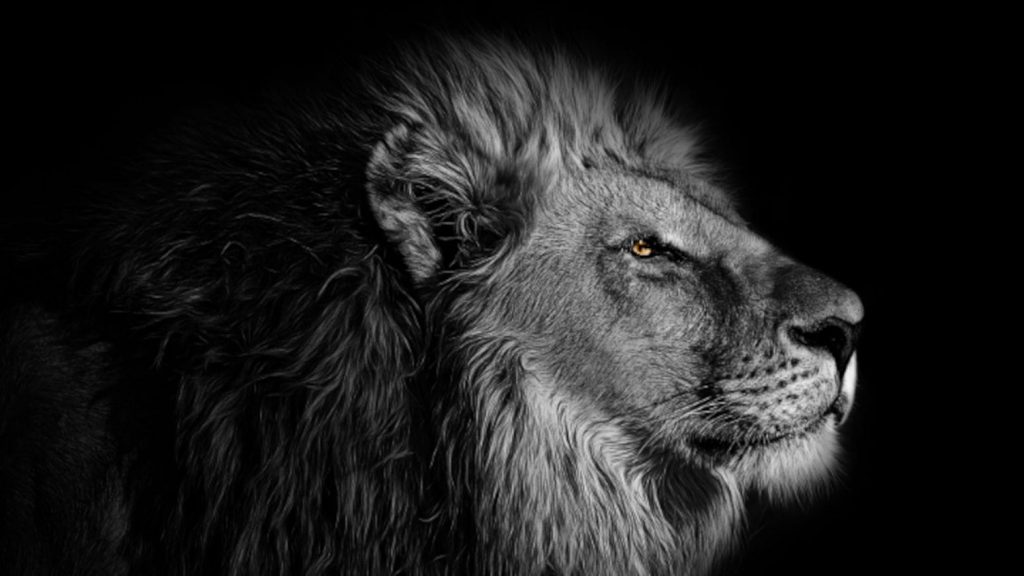 If you're looking for some fantastic painting tutorials that are feature painting on black canvas, here's a great starting point for you:
The Art Sherpa has tutorial for a beautiful dark floral arrangement done on a canvas that's painted black. It's specifically designed for beginners so don't hesitate to try this one!
This "Easy Cat Painting Lesson for Beginners" by CLIVE5ART is a perfect example of how to use black paint when painting on black canvas. Follow along with Clive and paint a closeup of a black cat's beautiful face (Tip: You can find the traceable on Clive's website on the free image page. Just scroll down until you find it, click the left mouse button, and save the image to your device. Then, you can print the image and trace it onto your painting surface or you can free sketch it for a bit of an extra challenge.)
Jane Font is going to show you how to create an amazing glow, when painting on black canvas, in her tutorial lesson "Forest Glow"
Final Thoughts On Black Canvas Paintings
Painting on black canvas can bring extra drama and excitement to your paintings. By following a few simple techniques, you'll have no problem painting dark colors onto a black canvas and that's including black paint!
If you're looking for ideas to paint on a black background, check out my article "5 Incredible Websites with Free Images to Paint". This will lead you to some fantastic websites with like a gazillion photos that are free to copy!
Have you tried painting on black canvas yet? How did it go? Let me know in the comment section below.
More Articles About Canvases: