Move over, kiddos. Today it's all about finger painting for adults! We'll be going over the benefits, the tools you need, tutorial recommendations, and more.
I can't get through a single painting without dipping my fingers in paint and going to town on my canvas. Why would I ever deny myself the pure creative fun of it all?
Ready to ditch the paintbrush and get to finger painting? Let's dive right in!
The Benefits of Finger Painting
Right off the bat, I want to let you know the fantastic benefits of finger painting because, friend, there are many and even some that may surprise you.
All the Ways that Finger Painting Rocks!
Creates texture – smearing paint around with your fingers gives your artwork fantastic texture that is super easy to manipulate
Gives you maximum control – because your fingers become the tool used to paint, you get a ton of control. You may have to focus on the positioning of your hand but it's much easier than using a brush or a palette knife because you can go by feel
Allows you to focus on fun and creativity – just the idea of finger painting brings back childhood memories and how excited we would be to paint. It brings us back to all of the good feels
Multi-sensory (sight, touch, smell, sound) – using your senses is a great way to practice mindfulness. It keeps your mind in the present and focused on what you're doing
Gives you a sense of freedom – this one is kind of hard to explain but finger painting means you aren't limited by what a brush can do and it almost gives you permission to have fun and see what happens
Relaxing – there's no pressure for perfection. It is meant to be impressionistic or even abstract so you don't get caught up in the details
Finger Painting Tips
As easy and fun as finger painting can be, there are some handy tips that I want to share with you. Unlike the complete spontaneous smearing of paint that kids like to do, finger painting for adults has the potential to become amazing art with a little bit of thought.
Best Tips for Adult Finger Painting
Finger painting for blending backgrounds – If you think about it, using your fingers to create blended backgrounds makes the process much easier because you can move more quickly. Not having to deal with the brush, you have plenty of time to get that paint blended just the way you want it, although in a more impressionistic way if you use a lot of paint
Apply in layers – when you take the extra time to work in layers and dry before applying more paint, you won't have as many issues with your complimentary colors mixing to the point of muddiness
Use harmonious colors – harmonious colors live next to each other on the color wheel and help to prevent overmixing. Make sure to read my article about using a color wheel so you can choose the best colors to finger paint with to avoid muddying up your colors
Practice with tutorials or artists like Van Gogh, who uses large brushstrokes and less detail (Stay tuned for a tutorial that makes finger painting for adults an absolute masterpiece!)
If you want to get really loose and free, pour paint directly onto your canvas and move it around
Finger painting fashion – Okay, how cool would a canvas apron look with rainbow colored handprints all over it! Just dip your whole hand in paint and go to town!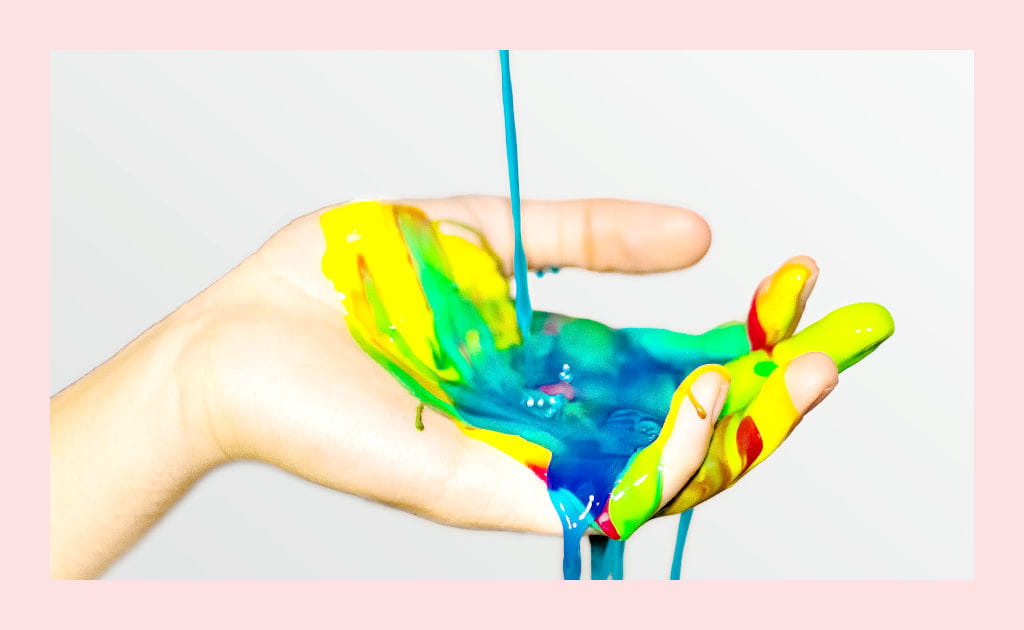 Acrylic Paint Safety Concerns
Although most acrylic paint is labeled as non-toxic, a few include pigments and chemicals that come with a safety warning. The chemicals to look out for are Cadmiums, Chromium, Cobalt, Lead, and Manganese.
If you aren't sure which acrylic paints include these pigments and chemicals, read the label and check for the ACMI seal with an AP stamped in the middle of the seal. "AP" stands for approved product for adults and children.
However, if the seal includes a "CL," this means that there is a cautionary label and to follow the instructions. To read more on the ACMI seal and how to read all of the information on a tube of paint, check out my in depth article.
If you are worried about it, just make sure to wear a pair of latex gloves and, at the very least, don't eat paint! That's some sound advice, right there!
Materials Needed for Acrylic Finger Painting
You don't really need a lot of painting materials when finger painting for adults, but there are a few things that can make your life easier. And, let's face it, who couldn't use an easy button now and then.
Materials Needed for Finger Painting
Acrylic paint
A drop cloth (something to protect your work surface)
Something to paint on (canvas, paper, fabric, etc.)
Old rags
Soap and water for cleanup
Hand sanitizer (alcohol can really get off stubborn paint from around your nails)
A hairdryer (for drying between layers, if needed)
Latex gloves (if you don't like the feel of paint on your hands)
Oh yeah, and fingers would be super helpful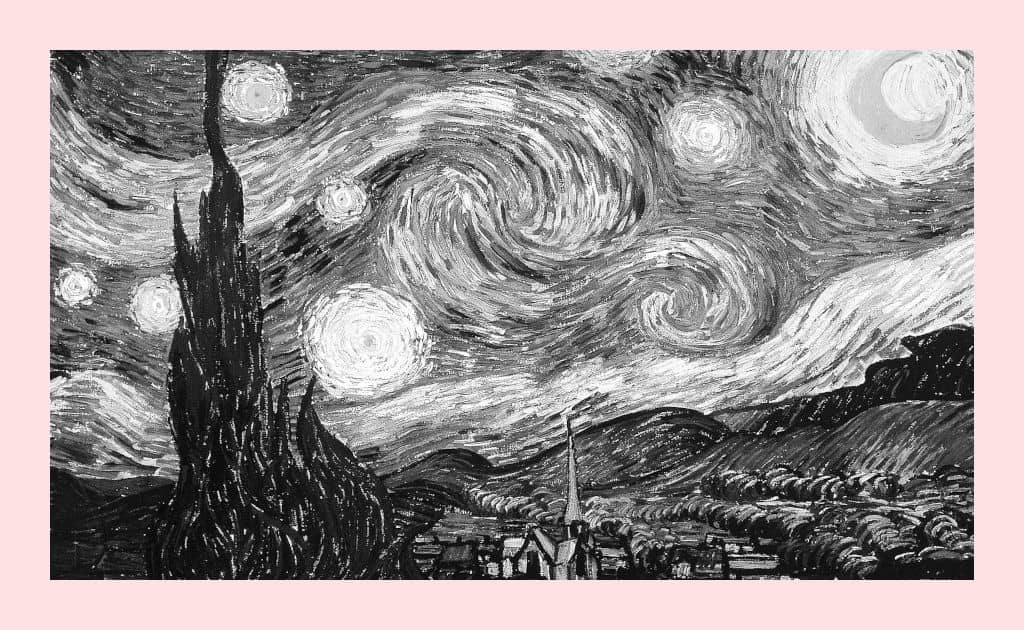 Fun Finger Painting for Adults: YouTube Recommendations
Here are a few finger painting YouTube tutorials for you to play with. I wanted to make sure that each was well explained, easy, and especially fun.
There are many more YouTube videos featuring finger painting for adults but these three are a great starting point.
Replicating a Famous Painting With Your Fingers!
Wow! This one is so cool looking! I mean, what can I possibly say about this famous painting except get ready to create a sky full of movement using your fingers! To kick off my recommendations for finger painting for adults, let's start with Jane Font's "Finger Painting Starry Night".
Finger Paint an Ocean Wave
Next up, we have a super quick and easy ocean wave finger painting by Noreen Harawa. This is one of those really customizable paintings and a great way to dip your toe into finger painting for adults…. "dip your toe in"…. did you see what I did there? Ah?
You can still do this tutorial if you don't have the exact paint colors. Just use what you have and if you want to make just the right turquoise, check out my article where I experiment with different blues and greens and give tons of turquoise acrylic paint recipes.
Impressionistic Hydrangeas Finger Painting
This little painting by Art by Kimberly Adams makes the easiest yet most beautiful hydrangeas you've ever seen. For real, if you can tap your fingers, you can paint this piece!
Although this is the only tutorial that Kimberly shares on her tutorial, I couldn't resist letting you know about this hidden gem.
If you'd like to learn more about Kimberly, check out her website.
Finger Painting With Acrylics (Final Thoughts)
Finger painting for adults is a valid art form with so many benefits. Most importantly, it gives you the freedom to fully explore the painting experience without the pressure of perfection or the anxiety of proper brush technique.
If you need more proof of how incredible finger painting art can be, you need to check out Iris Scott. She is world-renowned for her finger paintings, and with good reason! To see some incredible art, check out Iris Scott's website.
Paint on, my friend, and feel free to share this fabulous intro to finger painting!
More Benefits of Acrylic Painting