Celebrate the Day of Love with a Valentine's Art Project!
Looking for Valentines paint night ideas for yourself or a group of friends? You're going to love these fun heart art projects!
I can't imagine a better way to celebrate the holiday than to create a beautiful piece of romantic art. The best part? You can paint in your jammies and have a total blast! No date required!
So, get your painting supplies together, munch on your favorite chocolates, toast to love with your favorite fancy cocktail, and get ready to have a great time with one of these amazing Valentine's Day inspired painting tutorials!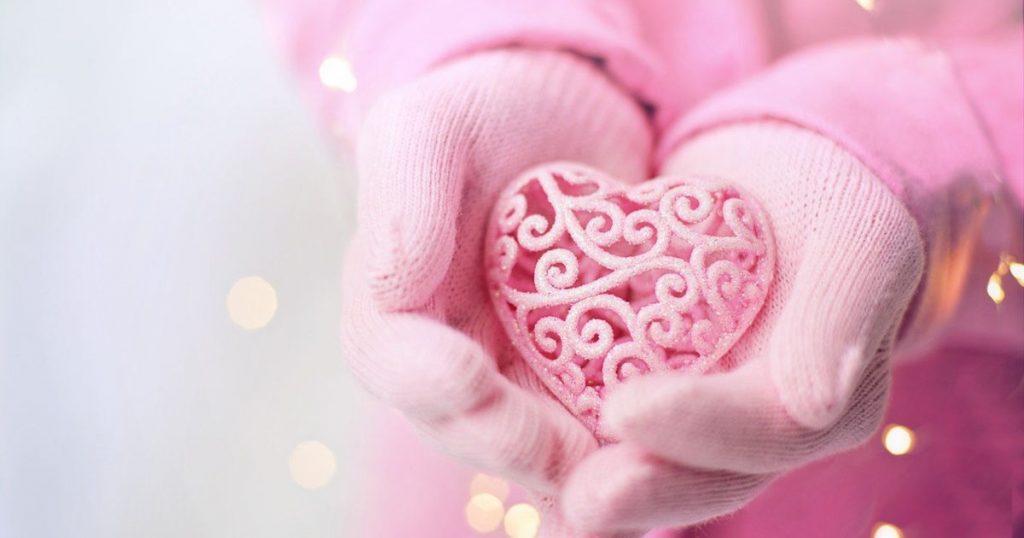 The Best Valentines Painting Idea for Wine Lovers
If you give "Pouring Wine Heart" by The Art Sherpa a try, you'll have a beautiful painting that would look fabulous hung in a dining room or kitchen.
This step-by-step Valentine inspired painting lesson features red wine being poured into a wine glass on a beautifully aged background. As the wine falls from the bottle, it creates a really interesting heart shape. Your love of wine is well represented here!
If you have wine lovers on your list of Valentines, you could paint this one for yourself and then get prints made for handmade Valentine's Day cards. Cheers!
Painting Techniques You'll Learn
How to paint a vignette
Painting with a kitchen sponge
Painting a worn old-world inspired background
An easy trick for drawing a wine glass
What you can use if you don't have a t-square
How to paint the illusion of clear glass
Painting a glow with a glazing technique
How to fix a paint whoops
Step-by-Step Textured "I Love You" Painting
This is another Valentine's Day painting design that would make an awesome card that people could actually frame!
Not only is this acrylic painting completely customizable but it's a great first try at painting flowers if you've never attempted them before.
I chose this easy tutorial as one of the Valentines paint night ideas for you because of the number of different techniques you'll get to try. Also, it's got this edgy graffiti look to it that's perfect for someone who is into street art.
Now, MariArtHome doesn't come right out and tell you what to do but you can slow the video down and follow along by copying what you see the artist doing. Just go to the settings (cogwheel icon), locaated in the lower right-hand side of the video, and choose a slower playback speed.
All of the artist's techniques are very simple and straight forward and she lists the materials she uses in the description box. She uses modeling paste to create the background texture but you could also use an extra thick gel medium.
If you're not crazy over the colors that she uses, don't be afraid to shake it up by using your favorite paint colors or a palette that will go with your decor.
Excellent Painting Skills to Add to Your Art Practice!
Learn to work with modeling paste/gel medium
Create a painting with a palette knife
Dry brushing to make all of that texture really pop
Learn to paint simple roses
Learn how to paint words using the paste/gel to create a template
Romantic Painted Heart Tree Landscape Tutorial
Angela Anderson is a pro at explaining how to paint just about anything and you can't help but to laugh when she and her husband get up to shenanigans.
She has created a really simple, yet beautiful, heart inspired painting tutorial which is why it was a no-brainer to add it to our Valentines paint night ideas.
The neutral paint colors, that create almost a sepia tone, and minimalistic landscape, that helps to keep the focus on the heart-shaped tree, makes this a wonderful painting to hang just about anywhere in your house and enjoy all year long.
The Painting Techniques You'll Go Over
How to blend acrylic paint
Creating a vignette
How to paint stars two different ways (if you need more instruction, check out my article "How to Paint a Snowflake", where I teach you the steps for painting snowflakes, which also work for painting stars)
Painting a tree trunk and easy branches
Painting easy leaves on a tree (If you'd like more practice with this, my article "How to Paint a Fall Tree" will guide you through a step-by-step with photos)
How to add color to create depth
Final Thoughts on These Romantic Painting Tutorials
If you've been trying to come up with Valentines paint night ideas that are easy, fun, and end with a beautiful piece of art, I think you'll be happy with any one of the above mentioned tutorials.
All three videos are packed full of techniques to practice that you can carry over to future acrylic paintings.
I hope you'll treat yourself to a relaxing evening, either on your own or with a group of close friends. I mean, what better way to express love for yourself than by building your artistic confidence? Don't for one second believe that you can't do it. I know you can!
Do You Think That Learning New Skills Is a Form of Self-Love?
More Paint Party Ideas: