Some of the links in this article are affiliate links which means that if you choose to click on them and make a purchase, I earn a small commission at no extra cost to you.
Also, as an Amazon Associate, I earn from qualifying Amazon purchases.
For more details, please read the full disclosure here.
Thanks so much for your support!
Let's face it, it's not easy to figure out what the best acrylic paint for beginners is. I mean, have you been in the paint aisle of an art store lately?! For new painters, it's a cross between angels singing and a deer caught in headlights.
From brands, colors, consistency, and price it's hard to know which truly are worth taking a closer look at.
Today, I'm going to share with you my top picks including brands and individual paint colors, in case you don't want to buy a whole set.
I'll give you different price points to choose from, as well. If you really are a true beginner there's no point in spending a lot of money if it turns out acrylic painting isn't for you.
I'm also going to show you a few different types of acrylic paint that you may want to play with. It's nice to have some specialty paints in your toolbox when you feel like experimenting and adding a little something extra to your artwork.
I won't bore you with explaining what acrylic paint is. I'm sure if you're here you already know that. However, I will quickly go over the basics and there will be a short q&a section in this article so make sure to stick around for that.
It's also worth noting that the pros and cons lists included in this article are what I feel are important when trying to select acrylic paint. Your deal breakers may be totally different but we've all gotta start somewhere, right? Without further ado, let's do this!
Acrylic Paint Basics For Beginners
To choose the best acrylic paint for beginners you have to ask yourself a few questions before you even go to the store or start perusing online.
What is your budget? If you start browsing without some idea of how much you want to spend you are going to be searching for a very long time. It's best to come up with a game plan for which colors you would like to have and how much you feel comfortable spending.
What kind of painting techniques are you interested in trying? If you know that you're going to want to try something like paint pouring you might be interested in fluid acrylic paint. However, if your goal is to experiment with pallet knives and create lots of texture you'll probably want to purchase some heavy body paints.
In the end, choosing the best acrylic paint for beginners is mostly a personal choice. That being said, in addition to the questions above, there are a couple of things that you want to be aware of.
Acrylic craft paint, although cheaper, won't have the same amount of pigment as student grade or professional. It also uses a lot of filler and the binder usually isn't that great either. This means you'll have to paint more layers than you would with student grade or professional and the color vibrancy might not be as good as you're expecting. However, if price is an issue go ahead and try craft paint, it's what I started with. The most important thing is that you start creating art. The rest will follow
The quality and amount of the pigment used are what create the big swings in price. The better the quality and the more added, the more expensive it will be
Why Acrylic Paint Is Amazing
Easy to use
Clean up with soap and water
You can paint on canvas, paper, wood, metal, and more
Dries quickly
Comes in lots of colors
No strong odor
Versatile (can use washes to create a watercolor effect or apply in layers to look more like oils)
The Best Brands For Acrylic Painting
I chose these brands as being the absolute best for a few different reasons. These are paints that I have either used myself, or I've seen being used by top YouTube acrylic painting instructors, who I trust.
Top Picks For Acrylic Paint
Golden is a professional paint brand that I use quite frequently. In fact, when I first upgraded my Titanium White, Golden is the brand I went with and I was not disappointed.
Golden's professional acrylic paint is highly pigmented, offers great coverage, has a beautifully thick consistency, and I love that their website has so much information for artists to learn more.
Most artists know about Liquitex and if you are looking for the best acrylic paint for beginners this is a fantastic option because Liquitex offers both professional and student-grade paint. If you use and enjoy the Basics line, it's easy to upgrade to their professional line.
Also, if you are a beginner who follows along with YouTube acrylic painting tutorials I know Liquitex Basics probably sounds pretty familiar to you. Many instructors on YouTube will suggest Liquitex Basics for their tutorials.
This also makes it easy to transition from craft paints to better quality paint. Although not impossible, it can be challenging to figure out what a craft paint color named "Straw Yellow" or "Christmas Red" translates to if the YouTube tutorial you're watching uses a higher quality paint.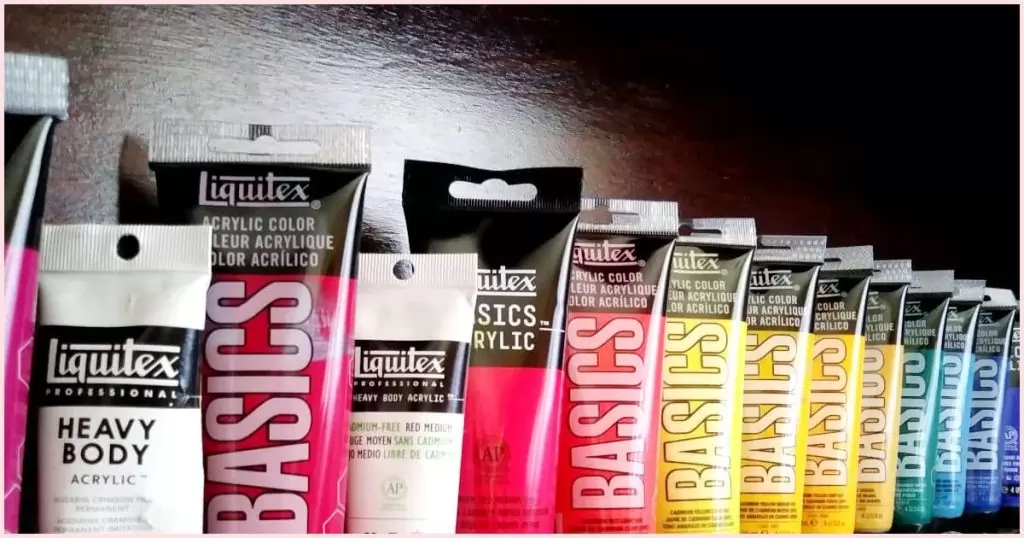 Arteza Premium is a beautiful paint that is very beginner friendly. These paints are highly pigmented, have about the same consistency as Liquitex Basics, offers decent coverage, and comes in a ton of colors. Besides Liquitex Basics, the majority of my paint collection comes from this brand.
The reason I included Holbein in this list of the absolute best acrylic paint for beginners is because of Joni Young Art on YouTube. She uses the Holbein Luminous (neons) acrylic paints for many different paintings but my favorites are her landscapes where she uses neons in her gorgeous skies.
For that reason alone I feel that, although more on the pricey side, Holbein should definitely be on your radar when your budget allows.
This is another paint brand that comes as a recommendation, particularly their Abstract acrylic paint line. This time, the suggestion comes from The Art Sherpa on YouTube.
Her channel is probably one of the most, if not the most, watched acrylic painting tutorial channels for beginners. That's why I feel confident recommending Sennelier Abstract acrylic paint.
I, also, have used this paint and recommend it. It has a nice buttery consistency and it comes in soft plastic pouches with screw tops. This makes it so much easier to squeeze every last bit of paint out so nothing goes to waste. For real, acrylic paint packaging is super important for ease of use. Plus, it's pretty affordable as far as student grade paints go.
The Best Affordable Acrylic Paint
If you have a really small budget don't think that you have to spend a ton of money on paint supplies. When I first started I used craft paint that I found at the dollar store.
I mean, this just makes sense especially if you're not sure acrylic painting is going to be something you'll want to keep working at.
My top recommendations for acrylic crafting paint are DecoArt Crafter's Acrylic, DecoArt Americana, and Apple Barrel.
DecoArt Crafter's Acrylic
Crafter's Acrylic is DecoArt's acrylic paint that is designed with beginners in mind. It is self-leveling, comes in a wide array of colors, and is easy to work with.
I'd say about 90% of my craft paint collection is Crafter's Acrylic. I use this paint for paint pouring, when I need to cover a large area and I don't want to waste my more expensive paint, or when I'm just practicing a technique.
DecoArt Americana
Americana is DecoArt's flagship line of acrylic paint. It's inexpensive and generally easy to get your hands on. I was able to find some in my local dollar store right next to the DecoArt Crafter's Choice.
Apple Barrel
Apple Barrel craft paint is very popular with crafters and artists alike and is comparable to DecoArt's Americana line.
The Best Student Grade Acrylic Paint
Next up we've got student-grade acrylic paint. Think of student-grade acrylic paint as the halfway point between craft paint and professional paint.
It has more pigments, better binders, and fewer fillers than craft paint but its formula isn't quite as good as professional-grade paints.
That said, it has a beautiful consistency, is still more affordable than professional grade, doesn't have as much color shift as craft paint, and comes in a gorgeous array of colors.
Liquitex Basics
Let's face it, no list of best acrylic paints for beginners would be complete without mentioning Liquitex Basics.
It's probably the most recommended acrylic paint brand by artists with an instructional YouTube channel for beginners.
Why? Because it's basically the gateway paint when you've already decided that acrylic painting is going to become a regular part of your life.
In my own painting practice, Liquitex Basics is my go-to and I have many years of experience using it which is why I also recommend it frequently.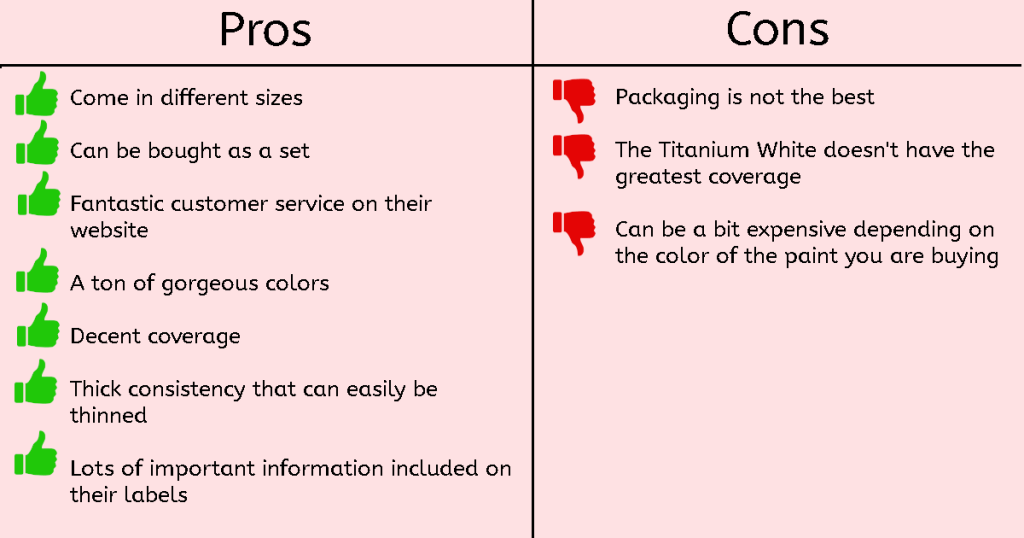 Arteza
This paint brand is phenomenal, especially the Arteza Premium acrylic paint. It's an American-based company that offers all kinds of different art supplies but its premium acrylic paint is the one I have the most experience with. I use this brand almost as much as Liquitex Basics and will never hesitate to recommend it to beginners.
Sennelier Abstract
Again, this paint comes highly recommended by The Art Sherpa on YouTube which is why it has made it into my list of best acrylic paint for beginners in the student grade category.
To see a super in-depth demo of the whole Abstract line, check out this video by The Art Sherpa.
The Best Professional Acrylic Paint
You might be wondering why I would bother to include professional acrylic paint in this best acrylic paint for beginners list. I mean, if it's professional, shouldn't beginners wait until they're more experienced before using it?
If you've got a few acrylic painting tutorials under your belt and you still have the creative spark for it, by all means, go straight for professional paint, if your budget allows.
No rule book says you can't start your art journey with professional paint. It may actually speed up the learning process because you'll be working with superior pigments and binders.
When using paint that has top quality pigments and binders, you'll get better coverage, less color shift (when your paint dries darker than when it's wet), fewer issues with separation, and more.
Golden
Painting Pals, I love this paint! Golden is the first professional paint I ever tried and I'm a fan for life. Between the creamy consistency, the pigment load, and the helpful info on their website, you just can't lose!
Liquitex
I've used Liquitex Professional heavy body paints for a while now. The things that I like most about it are that the packaging is plastic tubing instead of metal which makes it easier to squeeze the paint out and they also offer cadmium-free paints that are comparable to the originals.
The Best Metallic Acrylic Paint For Beginners
As a beginner, you're probably focused on regular acrylic paints but I do suggest playing with specialty paints. Sometimes specialty paints bring back that zest for creating when you've hit a block.
I've got a few recommendations for you based on price point. Both brands are ones that I've used and have a good knowledge of. At the end of the day, this decision should be based on your budget because both brands of paint perform beautifully.
DecoArt Dazzling Metallics
First up in the metallic category on our list of best acrylic paint for beginners is DecoArt Dazzling Metallics.
I've been using this paint for quite a while now and am quite satisfied with the results. I typically use it for holiday artwork because I love a bit of glitz during the holidays.
I also find it's great to add to paint pours if you want a hint of unexpected shine in your pieces. Since this type of metallic paint is already quite liquid, it doesn't take much to thin it further if needed.
Arteza Premium Metallics
I love, love, love the Arteza Premium metallics! They have a gorgeous rich pearl finish (this could be seen as a pro or a con depending on what level of shine you're going for so I stuck it in the con section of the list), have wonderful coverage, and come in quite a few colors.
Neon Acrylic Paint For Beginners
Neon acrylic paint is something I don't use very often but it's nice to have it in your stash for times when you want to really play with bright colors.
Most paint brands do carry neons so if you already have a favorite paint brand that I don't mention make sure to check out their website and see if they have them.
Arteza Premium Neon Acrylic Paint
My favorite neon in the Arteza Premium line is the neon pink. Maybe that's only because I use pink a lot in my art practice but I find this pink does what it should; adds some life and energy to my pieces.
Holbein Neon Acrylic Paint
To see this paint in action, you need to check out Joni Young Art's YouTube channel. I know she's used other neon paints in the past but Holbein's neon acrylic paint really caught my attention.
It looks like it has great coverage and really packs a punch when used in landscapes and sunset/sunrise paintings.
To see how Joni uses neons in her paintings, check out the landscape video below and make sure to visit her fantasy acrylic painting playlist, where she uses neons in just about every painting.
The Best Individual Paint Colors To Start With
For all of you brand-spanking-new acrylic painters, I see you, too! Until you've got a few paintings under your belt, you'll probably want to start with a limited color palette. That way, it won't be a big deal if you decide that acrylic painting is not the hobby for you (but I sure hope it is!).
Until you've gotten to know what acrylic paint can do, how it behaves, and you're comfortable using it, you really only need 5 tubes:
Titanium White
Mars Black
Primary Red
Primary Blue
Primary Yellow
I can tell you from experience you'll want to invest in a large tube of Titanium White. Most painters use it a lot so you'll go through a tube quicker than the other colors.
Mars Black isn't really necessary but I do like having it on hand when I'm doing tonal paintings with a pop of color.
Red, blue, and yellow are all primary colors which means they are the starting point for all other colors on the color wheel. With just those three colors, you can make so many other paint colors. From purple to orange to green to brown and so many more.
Once you've gotten used to painting with acrylics, you can branch out by adding to your primary colors. The goal is to split each primary color into warm and cool undertones. Basically, you end up having two each of red, blue, and yellow.
Here are some suggestions:
Cadmium Red Medium
Alizarin Crimson
Phthalo Blue
Ultramarine Blue
Cadmium Yellow Medium
Cadmium Yellow Light
By no means are these the only colors out there, as you probably know. However, these are all paint colors I use frequently.
Bonus Acrylic Paint Colors For Beginners
If you're looking to buy even more paint colors, here are my favorites:
Quinacridone Magenta – great for sunsets, flowers, and anywhere you need a cool pinkish purple)
Indian yellow – the most gorgeously vivid golden orangey-yellow I have ever seen and works beautifully with Quinacridone Magenta for sunsets or even just a really vivid background like the one I painted for my Spring Tulip Painting Tutorial
Phthalo Blue and Phthalo Green – combining these two paint colors with white make the most beautiful turquoise for tropical oceans. It's my go-to mixture when painting seascapes or beach scenes
The Best Acrylic Paint For Beginners: Q&A
1. What does student-grade acrylic paint mean?
Student-grade acrylic paint just means that the formula has been changed to make it more affordable for people who are studying and learning their craft.
The pigments are better quality than craft paint but not quite equal to the pigments used in professional paint.
2. What are the different viscosity levels of acrylic paint?
Acrylic paint comes in many different consistencies which is great because it makes it more versatile.
The different viscosities you may come across are heavy body, fluid, ink, and others but those three are the most common.
If you're interested in learning more, check out my article that explains the different viscosity levels of acrylic paint in more detail.
3. What is acrylic paint lightfastness and permanence?
Lightfastness is also known as permanence and refers to how well the paints will hold up over time when exposed to UV rays.
4. Should I buy acrylic paint in bottles, tubes, or jars?
I say you should buy acrylic paint that fits your budget. If that means it comes in bottles, great. That said, if looking at higher-end professional acrylic paint and your choice is either tubes or jars, my personal preference is tubes. On the other hand, if it's paint that I use a lot, a larger jar certainly would come in handy.
5. What do all the numbers, letters, and symbols mean on a tube of paint?
If you look closely at a tube of paint you will notice there's a lot of information on there.
Even though most people just want to get down to the business of slapping some paint on a canvas, it's worth taking the time to figure out everything the label on your tube of paint is telling you.
Believe it or not, those weird symbols, etc. can tell you what kind of pigments are used, light fastness, transparency, whether it's toxic or not, and more.
If this seems really overwhelming, don't worry, I've got your back. Take a moment to check out my article which explains all the information you can find on a label for acrylic paint.
6. Can you mix different paint brands?
Absolutely! As long as it's acrylic paint you can mix them, and you can paint on top of them, it's pretty much a non-issue.
The only time you need to be careful is when you're thinking about mixing different types of paint such as oils and acrylics.
7. Is acrylic paint toxic?
Generally speaking, acrylic paint is not toxic. However, this is where knowing how to read a paint label comes in handy. It's always best to do your due diligence and find out for sure. Any paint company who doesn't have this information readily available on their label should be avoided.
Also, artist acrylic paint and body paint are not the same things so it's best to stick with body paint if you've decided that's a thing you'd like to explore.
8. Is acrylic paint waterproof?
On its own acrylic paint is not waterproof but that doesn't mean you can't make it waterproof. By finishing your acrylic paintings with the proper varnish you can create a barrier from the elements, at least to some extent. To learn more, my article on sealing acrylic paintings goes into detail.
Summing Up Our List Of Unbeatable Acrylic Paint For New Artists
And there you have it! I hope you found this list of the absolute best acrylic paint for beginners helpful.
I mean, there's nothing worse than staring at a wall of paint from different paint brands and becoming completely overwhelmed because there are just so many choices.
Now, you can skip the overwhelm and feel confident that you've got a nice selection of paint colors, brands, and finishes to try, no matter your budget.
Have fun and happy painting!
More Articles for Beginners in Acrylic Painting: