Painting Festive Flowers Just Got A Whole Lot Simpler With These Tricks
Today, I want to share with you my best tips for painting poinsettias. In my own painting journey, I find that poinsettias are one of the easiest flowers to paint because of their basic structure. There are only a few things that may cause you some frustration but I'm here to help so let's dive right in!
Painting Poinsettia Leaves and "Petals"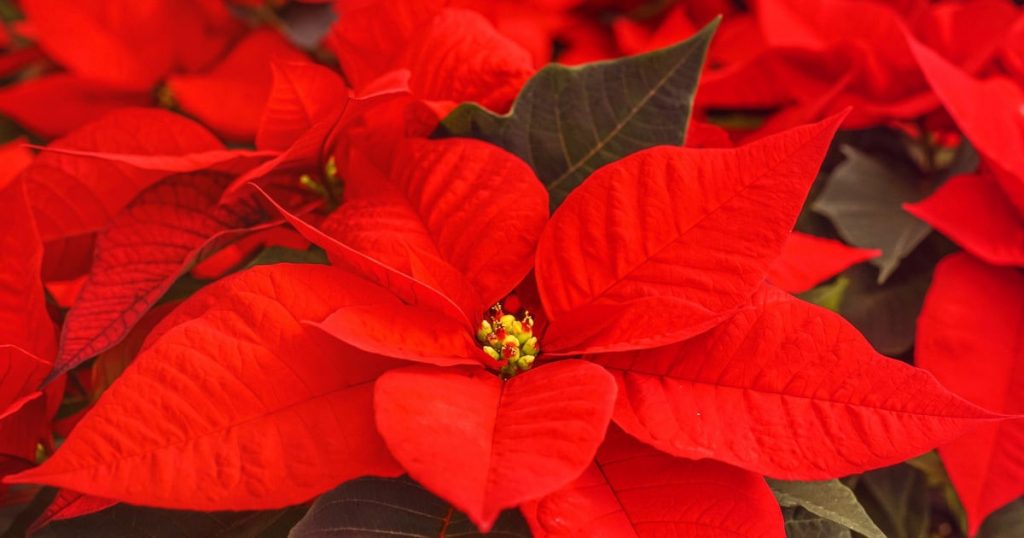 One of the things that make painting poinsettias so easy is the shape of the leaves and "petals". If you look at lots of pictures of the cheery beauties, you'll see that they may have some slight variations but both the leaves and the "petals" are basic teardrop shapes with pointed tips.
Not only that but the way the "petals" and leaves grow are almost like a daisy or sunflower. They are staggered so that you can see each "petal" as they overlap each other. The second layer is slightly bigger and fills in the gaps between the "petals" in the smallest first layer.
Because of the structure, one of my best tips for painting poinsettias is to add some "petals" that are a bit crooked, have some ruffled edges, or have a notch out of them so that the overall feel of your poinsettia painting stays interesting. That's the one problem with simple shapes, they can become boring very quickly so make sure to add some "petals" that are imperfect.
DYK: Poinsettias don't actually have petals in the traditional sense. The colorful parts that we think of as petals are called "bracts", which change color due to shorter winter days. The yellow bits in the center? Those are actually tiny flowers. Who'd a thunk it!
Use This Painting Technique For Adding Veins To Your Festive Flower
If you think you want to paint a poinsettia that is as realistic as possible, be prepared to add lots and lots of veining to both the leaves and the petals.
I know it might seem daunting but, I promise, you will get it! It's just a matter of seeing the veining as something else entirely.
When I was coming up with my list of the most important and best tips for painting poinsettias, this trick was a no-brainer. In fact, it was the first thing that came to mind because I find it so helpful for myself.
Instead of looking at the petals and leaves and seeing veins, try imaging them as thin tree branches.
For example, both have a main trunk/stem that all other "branches" start from, and each branch/vein gets thinner as you move away from the trunk/stem. The biggest difference between tree branches and veining is that the veins on leaves and petals tend to be a bit more organized in their structure.
Typically, all of the veining runs in the same direction and in the same pattern, more or less. This is a good thing because once you get the general flow of one veining pattern, the rest are a piece of cake!
The other thing to notice is that the veining on the petals is darker than the color of the petals, whereas the veining on the leaves is lighter than the main color of the leaves. It's not a big deal if you choose to not pay attention to this little detail but if you're going for authentic it's something to keep in mind.
Adding Highlights to Your Poinsettia Painting
Don't you just love the velvety look of the Poinsettia flowers? It's so rich looking and it's also the reason why putting highlights on the petals is super easy.
Because the petals aren't shiny, this makes for less contrast when adding in your highlights. They will be softer and more muted than, say, on a shiny apple. This brings me to another one of my best tips for painting poinsettias.
It's super easy to give your Poinsettias dimension when adding shadows and highlights. You can get those festive flowers finished with this easy three-part process:
Paint your petals using your base color
Using a small round brush, and a darker shade of your base color, paint in the veining
Lastly, lighten your base shade and add just a small amount to a small flat brush
Plant your flat brush just a short distance away from your veining and GENTLY pull outward while lifting
If you end up with too much highlight, just add in a bit more of your base color and vice versa
A Christmas Flower Of Many Colors
Of course, the most traditional color to paint your poinsettia would be any shade of red, with dark green leaves.
However, this flower comes in many other colors making it very flexible for painting with whatever colors you have on hand.
From creamy white, to mostly red with white spots, mostly white with red spots, to pink, to salmon, and all shades in between!
Because of this, don't feel as if you have to go out and buy a certain paint color. The poinsettia comes in more than 100 different varieties so relax and play with the paint you already have.
The Best YouTube Tutorial For Painting Poinsettias
"Christmas Poinsettia Flower" by Angela Anderson
Listen, if you want to learn how to paint any flower, you tune into Angela Anderson's YouTube channel. She is an absolute whiz at painting flowers and her tutorials are well thought out and beginner friendly.
In this video tutorial, she shows you how to make a super cute canvas ornament painting while sharing her own best tips for painting poinsettias. Check it out!
Final Thoughts on Techniques for Painting Festive Poinsettias
If I had to choose one of my best tips for painting Poinsettias as the most important, I'd have to say it would be the shape. You can leave out the veining and not worry too much about the highlights but it's the teardrop shape and the staggering of the "petals" that make this beautiful Christmas flower so recognizable.
If you are a lover of all things floral, or know someone who is, this is definitely a painting that you're going to want to take a stab at. Don't forget, Poinsettias come in a lot of different colors so play with the paint you have!
Which Christmas Flower is Your Favorite, Poinsettia or Christmas Cactus?
More Info to Help you Paint Poinsettias