Welcome The Energy of Spring With A Pretty Cherry Blossom Painting
There are a ton of easy cherry blossom painting ideas out there but a lot of them lean more toward crafting. No worries, though. I've got three cherry blossom painting tutorials that will have you feeling all the spring vibes, no matter the weather!
As someone who has spent many years dealing with the winter blahs, there is nothing better than painting something that can instantly remind you that spring is on the way. Cherry blossoms fill me with a sense of hope and renewed energy. Plus, they're just so darn pretty!
Any one of these cherry blossom acrylic painting ideas will give you the chance to practice lots of different skills and they are especially helpful with learning how to paint the different parts of trees.
Ready to get painting? Let's go!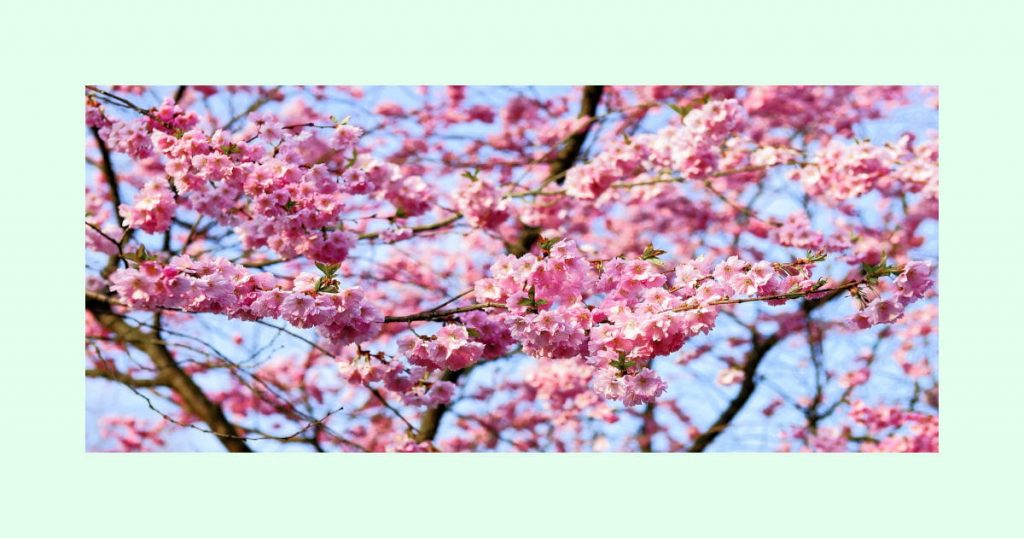 Cherry Blossom Painting Tutorial With An Interesting Composition
When it came to choosing which easy cherry blossom painting ideas I wanted to showcase, I knew that I wanted to keep it super simple and stress free but still provide you with art that you could hang with pride if you felt like it. That's where "Cherry Blossom House" by Grace J Art comes in.
In this simple cherry blossom tree painting, you'll be painting an impressionistic cherry blossom tree, on a sidewalk, with a house and window just behind the tree.
This is a beautiful little painting that uses a few materials you probably already have lying around. And, although this isn't taught with audio explanations, it's pretty easy to follow.
Once you watch this video tutorial, I'm positive you'll be grabbing your paints to give it a try!
Materials List
Out of all of the easy cherry blossom painting ideas I've featured in this article, this is the tutorial that uses the most tools.
If you don't have the exact paint colors or tools that are used in the step-by-step, you can totally just use what you have. That's the best part about painting, there is more than one way to finish a project.
Below, I've listed all of the materials that are used in the YouTube video and I've also included substitutions, either in the list or in the tips section.
Colors:
Titanium White
Naples Yellow (or a light, muted yellow with not a lot of vibrancy)
Brilliant Blue (this could be any vibrant blue or even turquoise. I would use Phthalo blue mixed with lots of white)
Burnt Umber (dark brown)
Raw Sienna (reddish-brown)
Rose Pink (pink that has a slightly warm undertone)
Quinacridone Magenta (dark pink with a cool undertone)
Hooker's Green (muted dark green with a cool undertone – think evergreen trees)
Payne's Grey (you can use any grey but make sure it leans toward blue because, in this case, it's used for shadows)
Tools:
Canvas, paper, canvas board, or any surface you can paint on
Palette Knife (optional: You could skip the knife and use a large flat paintbrush instead)
Kitchen sponge
Painter's tape
Small flat or angle brush
Small round brush
Filbert paintbrush (optional)
Cotton buds (some singles and some bundled together with rubber bands)
Detail filbert or round (for leaves)
Very small round brush or a script brush (for flower bed)
Important Techniques You'll Be Learning
There are tons of skills that you can practice while painting this beautiful cherry blossom tree tutorial but creating the shadow that is cast onto the side of the house is what stands out the most.
Adding shadows and highlights to any painting is what takes it from a very simple painting to one that starts to move into the realm of realism.
Of course, the more layers of shadows and highlights you add, the more realistic it looks but this tutorial is a great first step to understanding how shadows work, depending on where the shadow is coming from and where it lands.
Here is a list of techniques you can check out in this step-by-step painting video:
How to paint a window
Add loose reflections in the window
Paint shutters
Add a shadow underneath a window ledge to give it depth
How to paint a tree trunk and branches
Add highlights to the tree trunk
Paint cherry blossom flowers using cotton buds
Paint falling flower petals
How to paint leaves
Paint a shadow on the wall of the house, the window, and the sidewalk
How to paint grass or plants around the base of the tree
Color mixing
Extra Tips for Success
If you don't have a sponge, you can also use a paper towel to create a softened effect on the house
Use a light hand when adding the shadow
Make sure to use less paint with every highlight layer you add to the cherry blossoms so you don't cover up what you've already done
Make sure to add a few very thin branches back in after you finish your cherry blossoms (it will help give the whole tree more depth)
You don't have to add the little garden under the tree but I would add grasses to break up that area where the trunk of the cherry blossom tree and the sidewalk meet
You can always slow down the video by going to the settings and playback speed (make sure to mute the video or the slo-mo audio will be a total creepy distraction)
Cherry Blossom Branch Painting Tutorial
"Hand Made Cherry Blossom Card" by Idyllic Acrylic was a no-brainer to include in this list of easy cherry blossom painting ideas.
Learning how to paint cherry blossoms on a branch is a fantastic skill to have because it will help you with any paintings you do in the future that focus on flowers and branches.
What makes this tutorial super easy is that it only uses four paint colors and very few brushes so it's a great example of how you can complete a piece of art with limited supplies. Plus, fewer supplies means less $$$!
Paint and Tools List
Paint:
Titanium White
Raw Umber (you could use any dark brown)
Permanent Rose (any dark pink will do)
Cadmium Yellow Medium (Hue) (any sunny yellow will work)
Tools:
Something to paint on
Filbert paintbrushes (small one for painting the "buds" and the side view of the cherry blossoms, and a larger one for painting the bigger cherry blossom petals)
Small detail round brush
Useful Painting Skills You'll Learn
Blending on the brush
How to use the shape of a filbert brush to paint easy cherry blossom petals
How to paint branches (you can also look at my article that will give you more info on painting branches and lines)
Painting flowers from different perspectives
How adding a darker paint color near the center of each cherry blossom creates the illusion that the center is deeper within the flower (if you'd like to learn more, check out my article about painting highlights and shadows on flowers)
Using a harmonious color in the center of the flower to give it more interest
Additional Painting Tips
You can use a round brush or an angle brush to paint your branch
Notice how angled the cherry blossom branches are (this is great because having a bit of a wobbly hand will work to your advantage)
When painting the flowers, notice how she loosely adds the different colors of paint to the Filbert brush, then she plants it, gives it a wiggle-wiggle-wiggle (anyone else think of that LMFAO song when you do this? Ha!), then slightly pulls the brush toward the center, and, lastly, she twists the Filbert brush so that it's no longer on its flat side but, now, on its thin side
You can use a flat brush turned on its side, a round brush, or an angle brush on its side if you don't have a Filbert but, keep in mind, your technique for painting the cherry blossom petals will change. Just load the paintbrush as she does but then you'll plant the brush and drag it toward the center of the flower, using less and less pressure until you lift it off at the center
To paint the small cherry blossoms and buds, use a smaller brush (round or small filbert) and do the plant + wiggle + drag + lift-off (NO TWIST!)
If you'd like to add more detail to the cherry blossom branch, mix some of your dark brown paint with a bit of yellow and some white to create a highlight color. Think about where you want your light source to be coming from and then add the lighter paint color, with feather-light pressure and very little paint on the brush, wherever the light would hit the branch (if you paint a highlight where there shouldn't be one, let it dry and paint over it)
If you'd like to add color to the background, you'll get the biggest impact with a light green or turquoise
Step-by-Step Acrylic Cherry Blossom Tree Painting With a Watercolor Look
As far as easy cherry blossom painting ideas go, "How to Paint a Cherry Blossom Tree" by Createful Art with Ashley Krieger is an awesome tutorial if you want to paint a landscape that features a cherry blossom tree.
The techniques used to paint the flower blossoms are super easy and create a look that reminds me of a watercolor painting even though you're using acrylics.
This watercolor effect happens because you blend wet paint into wet paint on the canvas which helps to create a smooth transition between paint colors.
The vibrancy and impressionistic quality of this cherry blossom painting tutorial make this a really fun tutorial to try.
What You'll Need For This Cherry Blossom Tree Painting
Wanna know why this tutorial made the easy cherry blossom painting ideas list? You only need TWO paintbrushes! Plus, the paint colors can be customized to whatever you have on hand.
Paint Colors:
Metallic Bronze (or any dark brown)
Cadmium Yellow Medium (Hue) (or any sunny yellow)
Titanium White
Quinacridone Magenta (or any dark cool pink you have)
Phthalo Green (blue shade if using heavy body) (or any grass green paint)
Tools:
Something to paint on
Flat brush (bonus points if the bristles are fuzzed out)
Round brush
Main Painting Methods You'll Practice
How to plan the size and shape of a tree with a unique method
How to paint loosely
Create the illusion of very small petals falling
Paint leaves/flowers so a tree looks more natural
Add dimension to leaves/flowers using dark and light paint colors
Trick for making the open spaces between leaves look like they're glowing with light
How to add thin branches back in to give your tree depth
How to paint grass with a flat brush (you can also read my article all about painting grass and what brushes you can use, with examples)
Additional Painting Tips
If you don't have a flat brush, where the bristles are all splayed out, or a round brush, you can also use a flat brush or an angle brush on its skinny side (just tap the paint on the surface where you want to create a flower)
To make sure your paint doesn't dry too fast, you can do a few things:

Load your brush with more paint than you typically would

Work in sections, going from the larger paintbrush to the smaller, and don't move on until you have that section completed

If you'd rather your lighter petals didn't look too peachy from adding yellow, you can opt to use a warmer pink, like a rose pink (I would still use the quinacridone magenta for your shadow color because it's got a cool undertone which helps to make the shadows recede)
Summing Up Our List Of Cherry Blossom Painting Tutorials
If you decide to try even one of these super easy cherry blossom painting ideas, you'll gain a massive amount of experience to carry through to other paintings you try in the future.
Everything from color mixing, to blending, to giving dimension to branches, and painting flower petals will give you the practice and confidence to try more complicated painting tutorials.
If you're dreaming of spring and sick of feeling the Winter Blues, do yourself a favor and get painting!
Do You Think Cherry Blossoms Are The Best Flowers For a Spring Painting?
More Articles Related to Spring Cherry Blossom Painting Projects